2019 Audi Q8 : Absolute Wow
June 30 2018,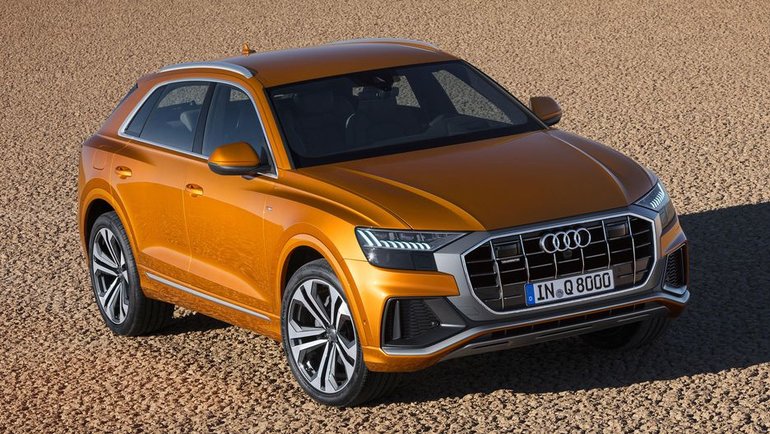 Looking for an SUV that packs plenty of wow factor? Check out the brand new 2019 Audi Q8, Audi's most recent sport utility vehicle, and by far its most fashionable. Audi has always been known for building beautifully-designed vehicles that are both elegant and aggressive in their styling, but the Audi Q8 takes that concept to a whole other level. With the Q8, you get an SUV that is sure to turn heads while also featuring the very latest in safety and connectivity technology.
It's ultimately everything you could ever hope for in a premium sport utility vehicle. With a host of available options and even 22-inch wheels, the 2019 Audi Q8 has it all.
Advanced Voice Commands and Plenty of Power in the 2019 Audi Q8
One of the Audi Q8's most unique features can be found in the voice command system. It has been tuned and adjusted to allow direct, natural conversations between the vehicle and the driver in order to adjust whatever system or function you need. Inside the Q8, owners will find room for five passengers as well as plenty of cargo space despite the Q8's coupe-like design.
The center console includes two screens which are easy to navigate and simply beautiful with their colorful menus and graphics. Every aspect of the 2019 Audi Q8 has been carefully executed to ensure optimum performance as well as to stand out in terms of overall design and sophistication.
Under the hood buyers will find a turbocharged 3.0-liter V6 engine with 335 horsepower and 369 pound-feet of torque. With that much power under your right foot, you'll have the oomph to match the looks of your Q8. Moreover, a stop/start system will ensure that fuel economy is in check and that you get both performance and efficiency out of your Audi Q8.
There are so many things to love about the 2019 Audi Q8. To learn more, contact us today at Audi of Kingston!